Having an animal be part of your family's lives for 14 years is something you never want to end  but you know at some time must. We have a border collie-lab mix who is just that- the glue that stuck our orphaned family together. The last year he had developed a paralyzing of his larynx and surgery was not an option at his age. Without a doubt, I knew we were going to lose him by the end of the year. When I discovered Magnetic Therapy, I was skeptical but felt "why not?", I had nothing to lose. His first treatment was amazing! Instantly, Dr. Coates observed his gray/purple tongue turn to a bright pink. He started acting like a puppy again. His eyes were bright and he was no longer panting.
We immediately signed him up for more sessions and after just three sessions, he rarely pants for air. Being leery of alternative medicines, I would never have imagined Magnetic Therapy would extend my dog's life. Without medical testing, I honestly don't medically know how this therapy has slowed the paralization or may even improved the cells around the larynx but I am elated that we have the pleasure of our loving dog for an extended time. Thank you Dr. Coates for giving us more time with our most cherished family member,
Theo is improving from a frustrating issue with watery manure, thanks to Dr Coates. I really like having eastern medicine as an option for my boys' health issues.
Tuff has made a complete recovery from stomach ulcers and I really appreciated Dr Coates' input and information as I dealt with a horse that had lost 200 pounds and was cribbing instead of eating. He has gained back his weight and is his usual ornery self again!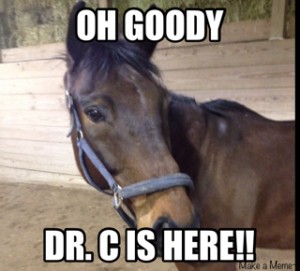 Ann Rettenmaier
Dr Coates has been my horse, Bart's vet since he came to be mine in 2011.  He has thrived under her care, especially with her chiropractic adjustments. He loves them as evidenced by lots of licking and chewing and head dropping. Her explanations of what she is doing are easy to understand and follow up care for me is very doable. It is clear she loves her job and her clients, both 2 and 4 legged.  Bart is a fabulous partner and I strive to give him the very best care because he deserves it.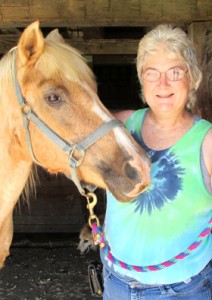 Laura Case
Cinnamon is a 32 year old quarter horse mare, who has lost several teeth.
In the winter we have trouble getting her to eat enough. This winter we have found a combination of management tools that have kept her weight steady. Dr. Coats suggested moxa and taought us how to administer. She also looked up some information about peppermint tea. We have been adding 1/4 cup dried organic peppermint tea to Cinnamon's wet mash each feeding. Cinnamon has been licking her feeder clean.
Cinnamon at 32 and Dad at 82 are buddies and when the weather permits still love to trail ride together. We very much appreciate Dr. Coats willingness to work with us and Cinnamon.
Ginger is a 27 year old grade palomino mare with cushings.
Dr. Coats has been very willing to investigate alternative treatments. She has used her chiropractic skills to adjust Ginger's back and hips several times. She recommended shaving Ginger in the summer to keep her cooler. Ginger is still a good trail horse and loves going out. Our goal is to keep her as comfortable as possible and Dr. Coats is an integral part of that.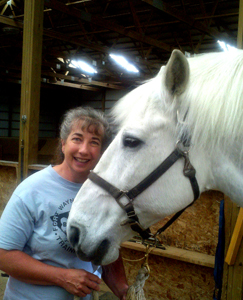 Beth Conway and Tony Jeffers from Corrymela Farms
Dr. Coates and her team have been seeing my horses and dogs for over two years.
My husband and I operate a small horse boarding facility and all of my clients have utilized the whole-istic services the practice offers. From routine vaccinations, wellness exams, lameness exams, colic and geriatric equine issues, Dr. Coates are able to connect well with all the animals. She is willing to educate us, explaining treatment options and thoroughly explains any needed action or aftercare to the owners. She has utilized traditional care with chiropractic and/or acupuncture to help balance the whole horse/dog. She has responded quickly when she was needed quickly and is always compassionate to animal and human.
Dr. Coates has been able to offer increased quality of life to the animals she has seen at our farm. It is important to us at Corrymela Farm (Gaelic for Hill of Harmony) to offer an array of care to the animals here and Premier Veterinary Services brings a wealth of knowledge and options to us.
Thank You!!
Ranger, our Golden Retriever, had just turned 10 the week before he nearly died in early March of 2013. He was so hot with no fever, but determined to go into mud 10 times a day to get cold water from our geothermal outlet. Then he got too weak to do that. He stopped eating and drinking water, started dragging his hind end, stumbling, and became lethargic. We took him several times to our regular vet who did blood work, exams, chest x-rays, organ ultrasounds and could not determine what was wrong. I know that he is older but it all came on so suddenly and I wasn't ready to give up on him.
I had read an article about animal chiropractics and when I searched for Indiana doctors, Dr. Stephanie Coates' name popped up and ironically, I was on my way that day going right by her office and farm. She performed a chiropractic adjustment for my youngest 'son', and gave him an acupuncture treatment as well. She came to our house just before a blizzard, and again a few weeks later. She put him on Chinese herbs to balance his body and he has recovered fully, stopped seeking cold water, is playing, running, swimming, and enjoying life again. We at one point said tearful goodbyes to him, and considered putting him to sleep, but we are so glad we explored a different way of thinking about health, balance, and traditional medicine.
In America, we term anything different from regular veterinary medicine that we know better as "non-traditional", yet herbs are natural, powerful medicine, that are the true traditional medicine. Chinese medicine is non-invasive, non-pharmaceutical, and non-surgical, so help your pet be the best they can be and live a long life. Herbal medicines, acupuncture, and chiropractics allow your pet's (or any other animal's), body heal itself. I am so glad we found Dr. Coates to help Ranger!