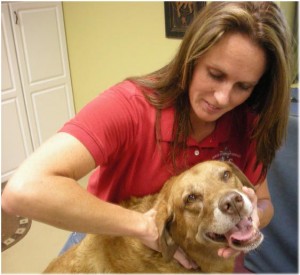 Dr. Coates is IVCA (International Veterinary Chiropractic Association) certified in large and small animal chiropractic care.  She specializes in healing and rehabilitating spinal and disc disease in both small and large animals.
Chiropractic care is a form of alternative or holistic medicine which has a great potential in veterinary medicine.  Similar to other forms of alternative therapies, it focuses on the body's innate ability to heal itself.
Chiropractic care can e very beneficial to all species of show animals.  In many cases, it will allow them to move more freely and comfortable without an unwanted side effects or withdrawal times.  We recommend that animals receive their chiropractic services approximately one week before an animal is to exhibit to maximize the effects of this service.
ONLY a licensed veterinarian or Human chiropractor ( D.C.) with appropriate training can practice animal chiropractics in most states, including Indiana.  It is important, as an owner to an animal to make sure you are receiving treatment by a qualified professional with certification and licensing.   Qualified practitioners will be certified through the International Veterinary Chiropractic Association (IVCA) or the American Veterinary Chiropractic Association (AVCA).  Practitioners are not required to be members of both associations.   To find a qualified chiropractic practioner near you , please use either of the following websites:
*   http://ivca.de/find-chiropractor/
*  http://animalchiropractic.org